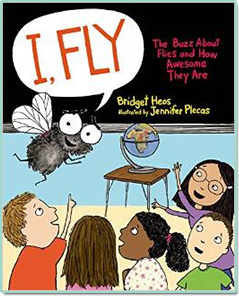 I, Fly: The Buzz About Flies and How Awesome They Are
Written by Bridget Heos, illustrated by Jennifer Plecas
Fly is fed up with everyone studying butterflies. Flies are so much cooler! They flap their wings 200 times a second, compared to a butterfly's measly five to twelve times. Their babies - maggots - are much cuter than caterpillars (obviously). And when they eat solid food, they even throw up on it to turn it into a liquid.
Who wouldn't want to study an insect like that? In an unforgettably fun, fact-filled presentation, this lovable (and highly partisan) narrator promotes his species to a sometimes engrossed, sometimes grossed-out, class of kids.
I, Fly is a Texas 2x2 Book and a Washington Children's Choice Award Finalist. It is now available in paperback through Scholastic Book Fairs and Reading Clubs. It was published by MacMillan in March 2015.
Fun Fly Activities!
You can draw Fly, color Fly, or make a fly fly! Click on the pictures below to download the activity sheets.

"Heos has a knack for selecting and presenting the kind of factual information that is both fascinating and revolting (in other words, perfect for middle-graders)....Plecas' pictures...also keep the tone light while still being instructive."
― The Bulletin, starred review
"A breezy bucketful of buggy braggadocio, with tasty nuggets of well-digested natural history stirred in."
― Kirkus Reviews
"A whimsical approach to the life cycle of flies. Large, colorful illustrations immediately engage readers through dialogue bubbles and colorful cartoons . . . This book will be a lively read-aloud to introduce students to environmentalism or to generate conversation and new ideas."
― School Library Journal
"Giggly, gross, and educational."
― Booklist
"Heos cleverly skewers the classic elements of the typical animal book.... educators...will find this take on insects refreshing, amusing, and scientifically accurate."
― The Horn Book
"This zippy introduction will inspire and satisfy curiosity."
― The New York Times
"After reading this informational book, not only will young readers have new respect for poop and garbage-eating flies, they will know lots more about these less glamorous insects... even though this is a light and very, very funny book, it's chock full of information!"
― BookPage