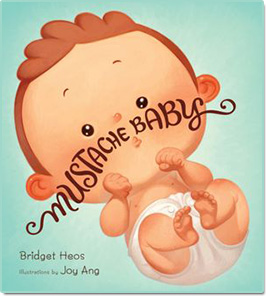 Mustache Baby
Written by Bridget Heos, illustrated by Joy Ang

When Baby Billy is born with a mustache, his family takes it in stride. They are reassured when he nobly saves the day in imaginary-play sessions as a cowboy or cop and his mustache looks good-guy great. But as time passes, their worst fears are confirmed when little Billy's mustache starts to curl up at the ends in a suspiciously villainous fashion. Sure enough, Billy's disreputable mustache led him into a life of dreadful crime.

Plenty of tongue-in-cheek humor and cartoonish illustrations make this the perfect baby-shower gift for a mustachioed father-to-be.

Buy the book!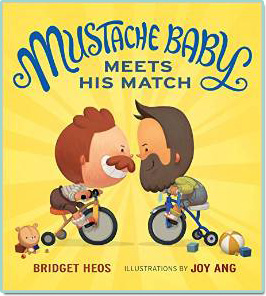 Mustache Baby Meets His Match

When Baby Javier comes for a playdate, Baby Billy, a.k.a. Mustache Baby, feels the need to show him a thing or two, seeing how Javier's new to town - and also sports an impressive beard. What ensues is a hilarious test of wills and facial hair, as each baby sets out to prove his manliness. It seems Mustache Baby may have truly met his match...but one-upmanship isn't the point of a playdate, is it?

Available March 2015

Buy the book!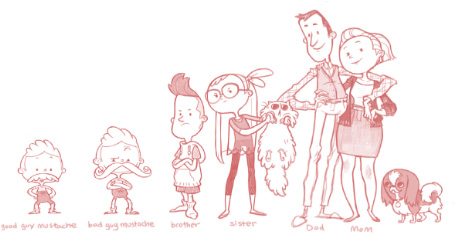 I Mustache Ask You a Question

Q. How did you get the idea for Mustache Baby?
A. I'd written a lot of books, but all of them had been nonfiction. I'd always wanted to write a fiction book, but I never had a single idea. Then one day I was in the school library with my 1st grade (at the time) son Richie and his friends. They saw the cover of Jerry Spinelli's book, CRASH, and fell on the floor laughing. (Literally!) They were being a bit to wild for the library. I said, "If you sit down and quiet down, I will tell you the story of the baby with the mustache. I told them the story, and they listened with wide eyes.
When I got home, I wrote it down. The first draft was too short! It needed more details. I added some of the things my three sons, Johnny, Richie, and JJ, did when they were babies. After that, I revised the story around 60 times!
It took 4 years for MUSTACHE BABY to come out! Around that time, mustaches became very popular. Fake mustaches were for sale at everywhere! We had lots of fun with that and still do. At readings, school visits, and even at home, everybody loves wearing mustaches!
We love you, Mustache Baby! (Reviews)
"Occasional badness has never been so good."
— Kirkus
"The book's oddball sense of humor is unflagging."
— Publishers Weekly
"A mustached baby will surely make audiences howl during read-alouds."
— Booklist Online
"You never know what you'll get in the delivery room, and something isn't quite right with this new baby. . . . Heos's offbeat tale muses on the possibilities, playing off parental hope and panicky nightmares."
—New York Times Book Review
"[This] book bristles with appealing humor."
—The Bulletin of the Center for Children's Books

"Quirky, silly fun."
—School Library Journal