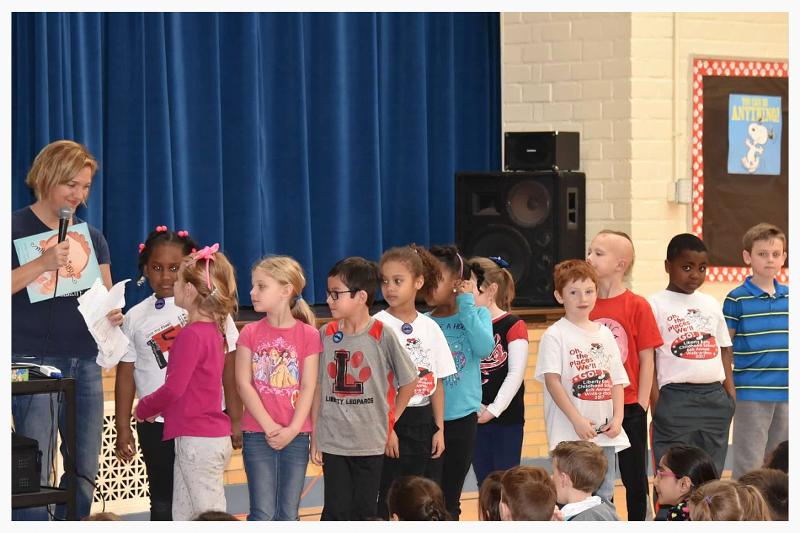 Presentations
Picture Books: Mustache Baby and More (Kindergarten-Grade 5) 45-50 Minutes
MUSTACHE BABY books 3 and 4 come out in March 2019 and Fall 2019. Let's celebrate with a school visit! Students will learn how picture books like MUSTACHE BABY are made, and hear stranger-than-fiction facts from my non-fiction books, including I, FLY: THE BUZZ ABOUT FLIES AND HOW AWESOME THEY ARE, JUST LIKE US! ANTS, JUST LIKE US! BIRDS, and SHELL, BEAK, TUSK. Students will also brainstorm fiction story ideas that are based on real life. They'll also be encouraged to put their hearts into their writing through the hard work of revising. Finally, we'll read MUSTACHE BABY, adding mustache-stic sound effects! Students will leave inspired to read and write - both fiction and non-fiction!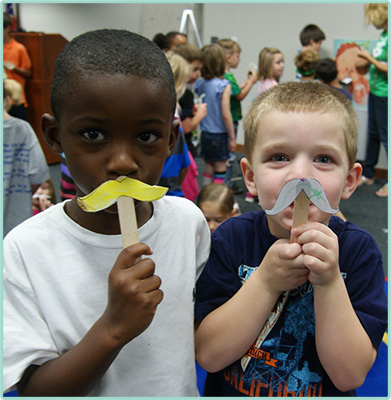 Nonfiction: Stronger than Steel and Stranger than Fiction (Grades 4-8) 45-50 Minutes

Ants falling from the edge of outer space without getting hurt. Goats infected with spider DNA so that they can produce spider silk. Old murder cases solved by modern forensic science. And birds that paint and decorate their homes. All these stranger than fiction subjects will be covered in this presentation. In the process, students will learn how a nonfiction book is made, including the research involved. Books covered include I, FLY: THE BUZZ ABOUT FLIES AND HOW AWESOME THEY ARE; STRONGER THAN STEEL: SPIDER SILK DNA AND THE QUEST FOR BETTER BULLETPROOF VESTS, SUTURES, AND PARACHUTE ROPE; BLOOD, BULLETS, AND BONES: THE STORY OF FORENSIC SCIENCE FROM SHERLOCK HOLMES TO DNA (2016), BIRDS: JUST LIKE US, and ANTS: JUST LIKE US (2017). If you want to get students excited about reading and writing nonfiction, this is the presentation for you!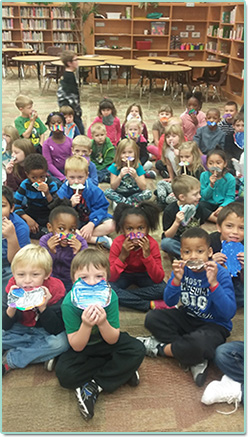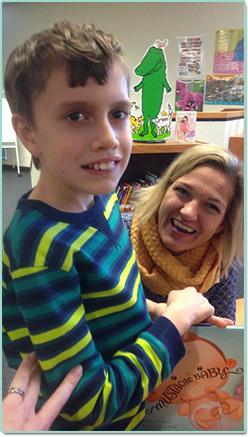 Animals: Just Like Us! (Grades 1-8) 45 to 50 Minutes
Did you know that ants farm? Or that birds decorate their homes? Even plants, in their way, do strangely human things, such as wearing disguises and engaging in warfare. In this presentation, based on Bridget's ANIMALS: JUST LIKE US! series, students will learn about amazing-and sometimes hilarious-animal adaptations. They'll also learn about nonfiction writing in general-from researching reliable sources to organizing the story and telling it compellingly. Kids will get excited about writing informative texts of their own!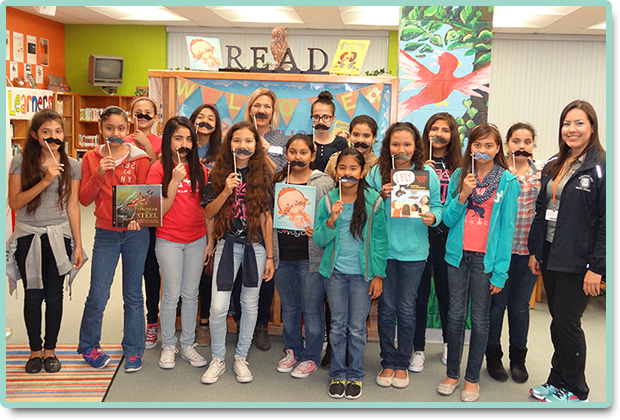 Murder, She Wrote (Grades 5-12) 45-50 Minutes
CSI and other mystery shows have brought forensic science to the forefront of teens' imaginations. But did you know that forensic science actually dates back to Ancient China? Or that the first modern-day forensic scientist was the fictional Sherlock Holmes? Would you believe that in 1922 in New York, poison killed more people than gunshot wounds, stabbings, and car accidents combined, a scourge that was finally brought to an end by the newly formed New York Medical Examiner's Office? In this presentation, students will learn about the research and writing that went into Bridget's new book BLOOD, BULLETS, AND BONES: THE STORY OF FORENSIC SCIENCE FROM SHERLOCK HOLMES TO DNA.
Writer's Workshops (Grades 5-12)
I'm happy to work with you to develop a writer's workshop that meets your school's needs. See below for ideas.

Pricing for 2019-20
Within 2 hours of Kansas City:
$1,000 for a full day (4 presentations plus)
$500 for a half day (2 presentations)
Outside of Kansas City:
$1,400 for a full day, plus travel. Schools may share the day.

A full day typically includes 4 presentations and time for signing books. You may also add any other activities that fit into the school day, such as an additional presentation, breakfast or lunch with students, story time for preschoolers, classroom visits to see student writing projects, a book signing party, or whatever will add to the students' experience!
A half day must be booked for either morning or afternoon. It includes two presentations.
For more information, please contact me at authorbheos@gmail.com

Buying Books
Many schools allow students and teachers to preorder books, which I then sign on the day of the visit. Book orders can be handled through a local bookstore or Barnes & Noble. Books may also be purchased directly from the publishers at a discount. I am happy to sign books that are brought from home, too. If you need help creating an order form, please let me know.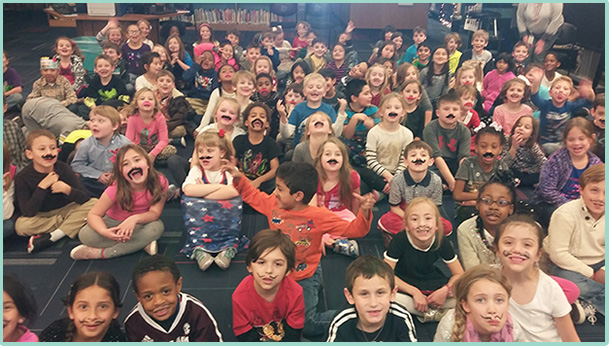 Library Visits, Literacy Nights, and Writer's Workshops
Choose from any of the presentations above, or one of the special selections below.
Pricing: $500 for one hour, or $750 for two hours
Picture Book Party (Families)
We'll celebrate and learn more about picture books with a slideshow, read-aloud, craft, and game. The theme can be MUSTACHE BABY, QUEEN DOG, FAIRY'S FIRST DAY OF SCHOOL, STEGOTHESAURUS, ANIMALS: JUST LIKE US!, WHO WANTS TO BE A PRINCESS? or a combination.
Stegothesaurus Sleepyhead Storytime (Families)
Kids will bring their dinosaurs for a STEGOTHESAURUS story time and craft. When the kids go home, the dinosaurs stay for an exciting sleepover in the library! Pictures will be posted the next day.
Writer's Workshop: Picture Books (All Ages)
Writers will study mentor texts and then write a picture book based on a memory. They will start by brainstorming. Then they will use the 32 pages (or less for younger students,) to elaborate on the memory. The picture book format is great for drawing out vivid details and slowing down the story to get to the heart of things. This activity is fun for family literacy nights, therapeutic groups, and libraries alike.
Writer's Workshop: Murder She Wrote (Grades 5-12)
Using crimes, clues, locations, and time periods from BLOOD, BULLETS, AND BONES, writers will come up with their own idea for a murder mystery novel. They'll write a synopsis, and create the book cover.
Writers Workshop: YA Novel (Grades 5-12)
Writers will choose a prompt from a variety of genres, and then go through the process of character examination, world building (even if it is a realistic world,) and choosing a starting point.
For multiple sessions, they can also write a draft of the first chapter, peer review, revise the chapter, and then "publish" it with an artistic cover and informative summary. This workshop gives students the chance to write in a medium that is familiar, relatable, and fun. I've had students walk away from the workshop determined to finish the novel over the Summer!
For more information, please contact me at authorbheos@gmail.com

Hope to see you soon!